GRAPAC JAPAN exhibited in Drupa 2012.
Drupa is the largest printing equipment exhibition in the world, held every four years, and Grapac Japan Co., Inc. (The head office: Sumida-ku, Tokyo, President and CEO : Yoshihide Yumoto) will exhibit HALS and Wedys at drupe 2012, which will be held from May 3rd to May 16th 2012 in Dusseldorf, Germany.
【The contents of exhibit】
Grapac Japan will exhibit and publicize printing materials that are added new technology to printing materials.
●3D Printing Material HALS (Honeycomb Array Lens Sheet)
 ・Special stereoscopic effect and appeal can be visualized from 360°direction
  with unaided eyes.
 ・Obtaining International Patents, Sales performance to more than 30 countries.
 ・Grapac Japan exhibits HALS, which keeps progressing.
●Printing that moves smoothly Wedys
 ・Adding movement to printed matter and producing the expression of surprising.
 ・Glassless, Non-electric source, smooth moving with maintenance free.
 ・International Patent Pending.
【Grapac Japan Booth Information】
 ◆Hall Number : No.16
 ◆Booth Number : 16D71

【Exhibition Booth Image】


we are attaching herewith some of photographs and display panels to introduction new technology of HALS at our booth.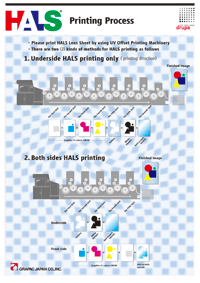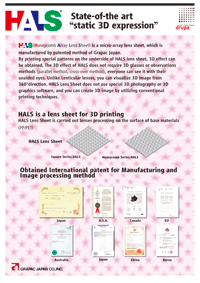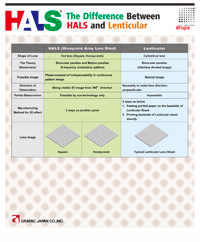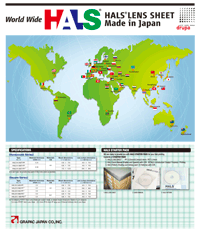 【Exhibition MAP】